76 EAST CROSSCAUSEWAY, EDINBURGH, EH8 9HQ
First Light
Four initiations into sex, intimacy and power. Six survivors find their own ways out. True stories. With live Soundscape.
#Firstlighttheplay @shamblesplay #Edfringe17
www.facebook/shamblesplay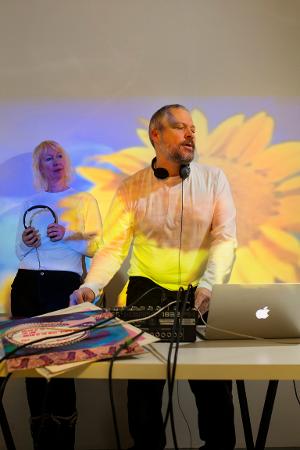 The Ties That Bind
Paul's world as a sound engineer is changing, as early stages of dementia begin to affect his personal relationships. How can he remain connected to those who care about him?
This touching performance asks, what ultimately binds us to others? What new stories can we weave that enable us to release old friends and join new ones?
Well Thumbed
Once upon a time when you took a classic book from the shelf it always opened at the well thumbed mucky bits...
Well Thumbed is outrageous stand-up literature as one man enthusiastically thumbs through the contents of a respectable library in a show that will 'have Mary Whitehouse spinning in her chastity belt'
Lecture
The Goddess League with Claire Milne
Changes in representation of the sacred feminine over centuries affect our relationships, body image and environment today. Knowledge restoring balance to our patriarchal world. Claire Milne, who has studied for 15 years with some of the best known teachers in the field of human consciousness, presents a visual her(his)story of the Divine Feminine from sacred places all over the world and asks how does her forgotten history impact us today? What about sacred masculine? What does sacred mean and how do we recognise sacred experience?
The Man Who Couldn't Dance
Set in the heart of Scotland, The Man Who Couldn't Dance is a story of first love, broken promises and surviving suburbia in the aftermath of a broken heart. Starring Louise Burke (Scotland) and Aidan O' Callaghan (Ireland). Directed by Ross Drury. Contains adult themes.Presented by Platform Edge Productions. @platformedgepro#themanwhocouldntdance
26th & 27th Aug at 3:15pm