Well Thumbed
August 5th -27th at 9pm
Tickets available from the Fringe box office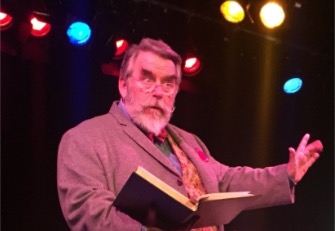 Once upon a time when you took a classic book from the shelf it always opened at the well thumbed mucky bits...
Well Thumbed is outrageous stand-up literature as one man enthusiastically thumbs through the contents of a respectable library in a show that will 'have Mary Whitehouse spinning in her chastity belt'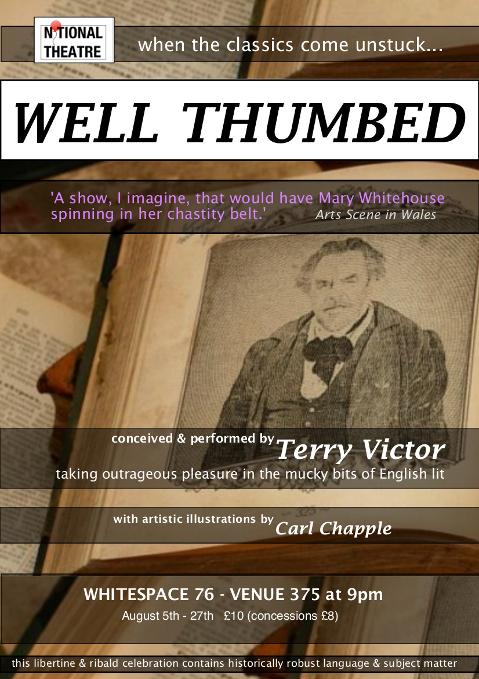 Warning: this libertine and ribald celebration contains historically robust language & subject matter. Jane Austen's dirty bits will be riffled for your pleasure. It's bawdy, educational, shocking, entertaining, delightful, charming, licentious, risqué, salacious, witty, naughty, wicked, breathtaking and fun.
A Well Thumbed biography:
The Librarian is performed by Terry Victor. As an actor he has enjoyed a long, varied and successful career: stage acting credits run from the National Theatre, Punchdrunk and National Theatre Wales to the West End, pantomime and cabaret; his film and TV credits include BAFTA-winners 'The Old Devils' and best movie 'A Bit of Tom Jones'; US TV films 'The Real Doctor Frankenstein' and 'Joan of Arc'; feature films 'Night of the Living Dead: Resurrection', 'Bitter Harvest' and Best Foreign Language Oscar-nominated 'Hedd Wyn'.
Terry is also known as a writer for the stage and page, including more murder mysteries on the 'Orient Express' than Agatha Christie ever imagined, and the seriously well acclaimed anti-war play 'Fragments of Ash' (which was part of the Edinburgh Fringe in 2012); as lexicographer, compiler and editor: 'The New Partridge Dictionary of Slang and Unconventional English' (2005, & now in its 2nd edition) and 'A Dictionary of Rhyming Slangs' (August 2017). Terry broadcasts regularly from his stronghold somewhere on the liberal leftwing of language use. He is a resident 'expert' on BBC Radio 5Live's 'Grammar Phone-in'.
Links and connections:
YouTube trailer: https://www.youtube.com/watch?v=cDFwS4FnoFA
@TheNotionalTheatre
@TheTerryVictor