Vintage Star Productions
presents
'Conversations with Love'
By Ann Akin
Sell out performances and five star reviews at both The Riverside Studios and Soho Theatre
Best Theatre Production at the BEFFTA Awards 2011.
Ann Akin also won BEEFTA award for writing 2011.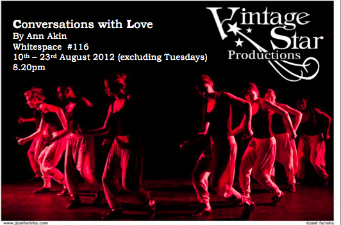 This award-winning show is Ann Akin's debut as a writer/director/choreographer. It's a monologue piece about the many different kinds of conversations that one can have with love incorporating music, movement and sign language. Starting its debut performance at The Lost Theatre's One Act Festival in May 2011.
10th – 23rd August 2012 (excluding Tuesdays)
8.20 pm
Tickets £9/£7(conc)